We use water every day around the home. Whether it's in the kitchen where we are washing our fruit, filling the kettle, in the laundry washing our cloths, the bathroom or outside, water is a very important part of our day-to-day life and we cannot survive without it. With water playing such an important part of what we do, it makes practical sense to use the best water available throughout your home.
We understand that building your new home is such an exciting, yet extremely stressful time as you have so many decisions you need to make. Often the thought of your whole of house water filtration is forgotten and so often regretted afterwards by so many.
This is why we recommend that you should discuss this as soon as you can with both your plumber and builder while you are planning your new house as to what they recommend as the best location for your whole of house water filtration.  Whole of House water filtration systems offers homeowners and families a perfect solution that provides them with pure, sweet tasting water to every single tap in their home…how great. Whole of House systems require professional planning and installation to operate efficiently and prevent problems like leaks from happening. This is why we at Waterways recommend that  you don't delay and get your builder and plumber onto it as soon as possible to ensure that the process goes smoothly.
Why is it important to consume clean water?
With the increase of pollutants which are finding their way into our water supply, resulting in our water being filled with a high percentage of water toxins.
So not only is it important that you drink water, it is also essential that you and your family drink clean filtered water.
Designed for your home
At Waterways, we take into account the size of your house. Our Whole of House filtration systems have been designed to handle the large amounts of water used by domestic homes, and compliment these with mixed bed systems, carbon filters and high flow systems for larger flow rates. With a range of sizes available, you can be sure we'll have one to suit your household.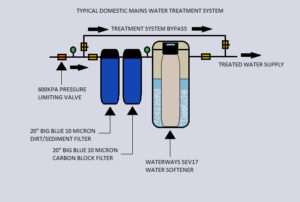 Where to next?
Our water filtration systems give you and your family an unlimited supply of safe, clean and pure water. This water is not only enjoyable to drink – with impurities and pollutants removed, the water is easier on your plumbing, appliances, and fixtures.
By investing in a good Whole of House water filtration system, you'll save money, drink, cook and bathe with water that's purer than tap water or bottled water.